B25Ex Water-cooled types of Solvent distillation equipment
Water-cooled solvent distillation equipment
Water-cooled Solvent Distillation Unit
Water-cooled solvent distillation machine
2 -80 GALLON DISTILLATION RECYCLERS
B25Ex, special equipment made for organic solvent recovery, stationary structure and circular water-cooled system, safe structure, is manufactured according to Chinese explosion-proof standards (CNEX) and European standards (ATEX). By distillation and cooling, clean organic solvents are recycled for use.
The new generation of calstar Solvent Recycling Equipment has been developed . Calstar solvent recovery distillation recyclers are designed to reduce your solvent purchase and your hazardous waste generation substantially.
It is suitable for a small amount of organic solvent to recycle.
After waiting few hours, waste solvent has been reclaimed and you will get clean solvent to use!Trichlorethylene Recycling Machine,Trichlorethylene Recovery Equipment,Trichlorethylene Recovery Unit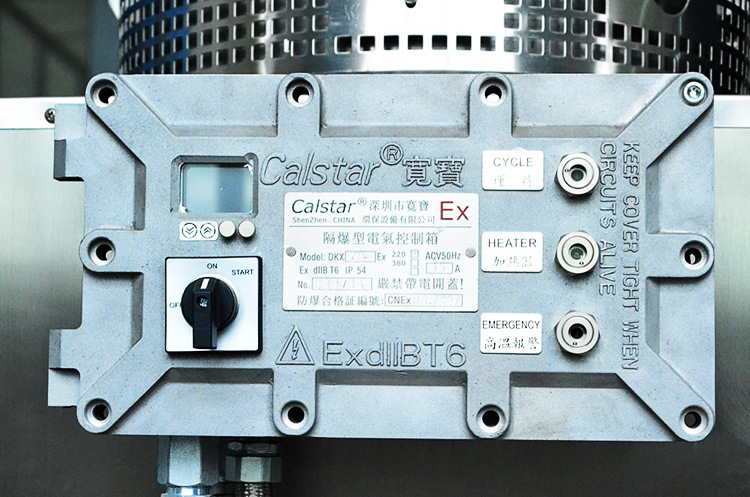 Customer Benefits
●High quality solvent recovery: clear, pure, good performance;
●Low maintenance cost, easy to maintain;
●Easy operation and installation: recovery process and operation is simple, convenient. General staff can secure posts after short-term training;
●The equipment is compact, small and light, space saving;
●Short process time and short operation time;
●Less investment, pay back quickly on investment; well-preserved environment and high economic benefits with less investment.Trichlorethylene Recycling Machine,Trichlorethylene Recovery Equipment,Trichlorethylene Recovery Unit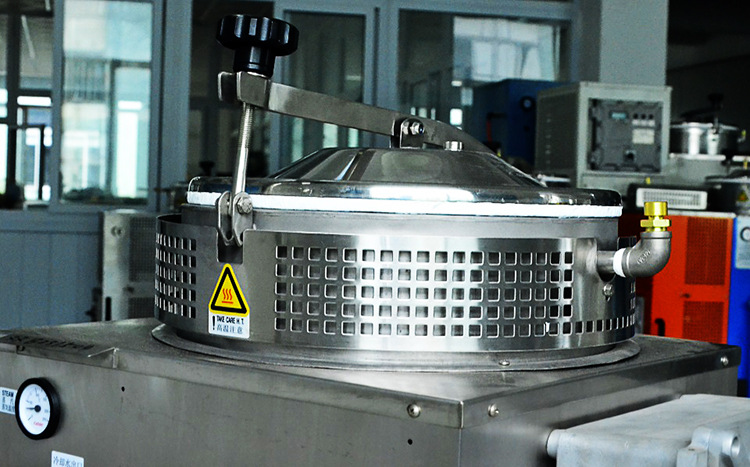 Characteristic
●Explosion-proof electric equipment: in compliance with Chinese safety standards (CNEX) and European standards (ATEX), worry-free and safe for use;
●Self-developed standardized production, stable and durable quality assured, has good performance;
●Stationary structure, safe structure; slag discharge valve in the recovery tank bottom, only pull the slag discharge valve handle to clean residues;
●High quality durable stainless steel tank, prevent chemical corrosion; two-tier structure, indirect heating, reinforcement barrelhead design, precise temperature control, explosion-proof, anti-leakage;
●Heating Method: heat medium (heat transfer oils) indirect heating;
●water-cooled condensing system: cooling is faster, recovery is rapid; cooling faster than air-cooled models, more rapid recovery with a shorter time;
●Fully stainless steel enclosure: greasy dirt can be gently wiped clean, dirty easy to clean, so that equipment is always kept clean and new;
●Digital heating temperature controller: advanced numerical performance, safety intuitive, accurate and convenient heating temperature control;
●Multiple operational safety protection functions: pre-set temperature shutdown function; timer shut off function; ultra-high temperature protection features; high-voltage protection function; power failure protection function.Trichlorethylene Recycling Machine,Trichlorethylene Recovery Equipment,Trichlorethylene Recovery Unit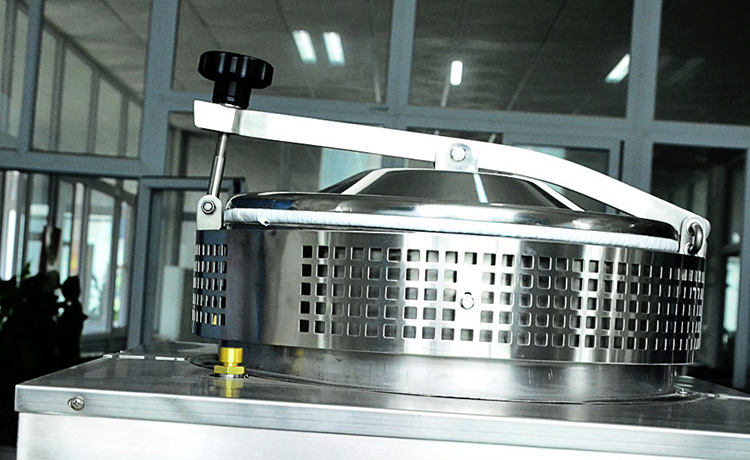 Customizing & Auxiliary device:
※You are free to customize the equipment to meet your specific needs, or choose auxiliary device in compliance with your needs in order to achieve the desired treatment effect.Trichlorethylene Recycling Machine,Trichlorethylene Recovery Equipment,Trichlorethylene Recovery Unit
Technical Parameters:
(for reference, the data subject to change, please with your choice models the actual date).
Model

Feeding
Capacity

Heating
Temperature

Socket
Power

Time
Per Cycle

Dimension

Weight

B25Ex

25L

50~190°C

220ACV/50Hz

2Hr




587*827*1130mm

73Kg
NOTE: Values listed above, the recovery time is under ideal conditions in laboratory test values during recovery of toluene for reference. The actual operation in the process of recovery and the waste solution inside the impurity content, high and low boiling point solvents, environmental temperature, viscosity, etc. differ.
STANDARD FEATURES:
Electronic Control Panel
One-touch Automated Cycle
Digital LED Display
Electronic Timer
Electronic Thermostat
Self-testing
Continuous Solvent Recycling Monitoring & Troubleshooting Control
Spring-loaded safety relief lid to prevent pressure buildup over 0.03MPa
Electric thermal coils immersed in thermic oil jacket
Suitable for most solvent (not suitable for nitrocellulose).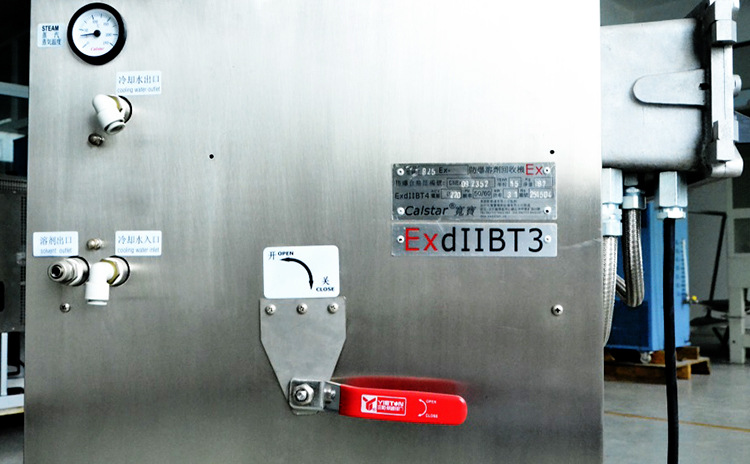 Application Fields:
Calstar® solvent recycling machines are applicable to reclaim most of common organic solvents. As long as you have a solvent recovery and treatment needs, recyclable processing industries in common organic solvents, no matter what kind of industry.
The equipments have been widely used in various industries at home and abroad.
1.Automobile manufacturing and repair industry:
vehicle spraying equipment and spray gun cleaning pipeline thin materials, such as: naphtha, toluene, xylene, methyl ethyl ketone, n-butyl, etc.; clean gasoline engine produced by such processes as solvents.
2.Electronic product manufacturing industry (e.g.: LCD, LED, etc.):
cleaning mold, cleaning of electronic products themselves cleaning agents, such as: ethanol, acetone, trichloroethylene, etc.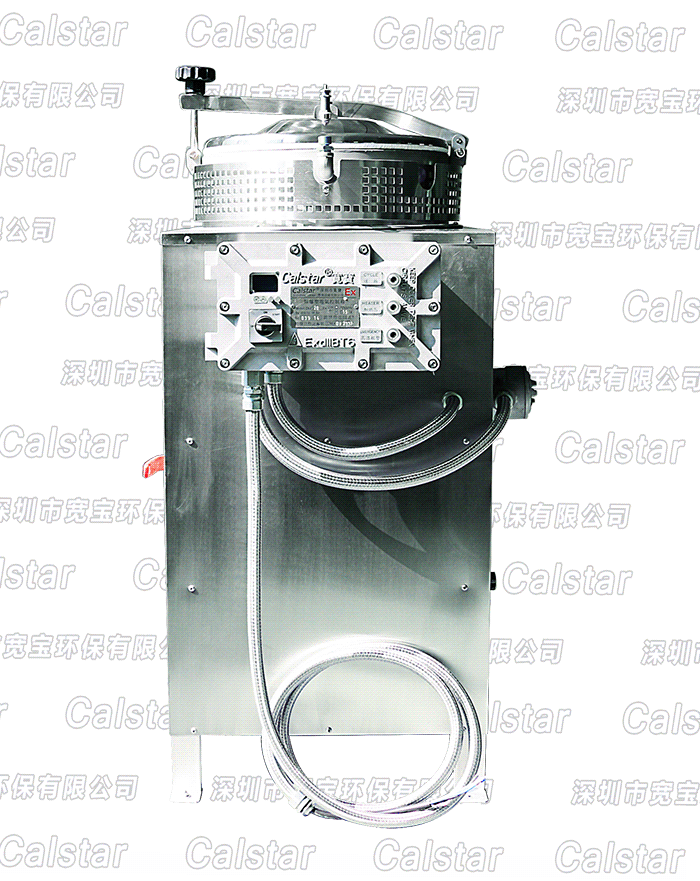 OPTIONAL UPGRADES:
Calstar Recycler Bag Liner Packages (25, 50, 100,200and 400 pack)
Calstar complete recycling hazardous waste organic solvent.
Vacuum Assist System
Pump Transfer Kits
Stainless Steel Condenser
Looking for ideal Water-cooled Solvent Distillation Equipment Manufacturer & supplier ? We have a wide selection at great prices to help you get creative. All the Water-cooled Solvent Distillation Unit are quality guaranteed. We are China Origin Factory of Water-cooled Solvent Distillation Machine. If you have any question, please feel free to contact us.
Product Categories : Solvent Recovery Machine > Explosion Proof Solvent Recovery Machine